News
September, 12,

201

7



Well, boys and girls we have finished mixing and mastering of our new album. Again it was made by real professional, virtuoso musician, producer, composer and simply wonderful person legendary Roland Grapow (Masterplan, ex-Helloween). He mae perfect sound of our new work. You will like it, we're sure;)

And special thanks to Roland for his hospitality. Work with him is a pleasure.
Thanks Roland, you are the best

Well, main part of work is done. We have finished all recording sessions. Yeah!

Special thanks to Dmitriy Borisenkov (Black Obelisk), at whose studio we recorded vocals and who helped us so much!

Next step is mixing;)

We are working together again! Alice Bejinski will take part in recording of our new album! I'm a big fan of her voice and so glad that Alice contributed to our creativity

February, 4,

201

7


Hello dears! We have good news for you. Now we are in the middle of working on our second album. We have a lot of new songs we prepared for you. We almost finished recording of instrumental part of our album. Guys work hard. I impressed of Pavel's perfectionism and Vladimir's capacity for work. Also we have a good new experience of work with our new keyboard player Alexander. He's a real virtuoso and you will see it. We have many good ideas, part of them was born during the recording sessions. Moreover not only me took part in composing of new materials. And you will be able to listen to songs of other guys. We also have several surprises, but I will tell about them later:)

Keep Rocking
Alex

September, 25,

201

7



Design of the new album made by our good friend Katrin Antares.

Track-list of the album:
1. Stormwind
2. Burning My Soul
3. No More Lies
4. Believe in Nothing
5. Falling in Love
6. Firestorm
7. Borderline
8. Fear
9. Lost Reality
10. Abode of Evil
11. Whever I Go (bonus)

Waiting for release;)

April, 3,

201

7



And special guest of our album (who doesn't know yet).
John West, fantastic singer, who influenced me like nobody else, will take part in recording of our new album. It's a great honor for me to work with so wonderful person. Thank you so much John!

Another guest of our new album - great singer Anna Imbris. We worked together with Crimson Cry for a several years and it's obvious that we invited her to take part in our new work:)

Started to record vocals today. At the Black Obelisk studio, like past time

February, 11, 2016


It happens again. Third time:)


On April, 2, Crimson Cry will support Royal Hunt in Izvestia Hall (Moscow). We will perform the best songs from our album.

P.S. Also the dates of upcoming shows was updated in "Shows"
23.11.15 -

added pics from the latest shows, updated section Music

01.12.13 - new section - Shop

06.10.13 - added new photos from the last shows of 2012

25.08.12 - added new photos from the last shows

28.12.11 - added new promo-photos

17.07.11 - Studio Diary is open

11.04.11 - added photos from the latest shows

27.02.11 - added audio and video materials

22.12.10 - renewal of the "Photo"

21.11.10 - renewal of the "Band"

18.09.10 - changings of design

10.07.10 - the beginning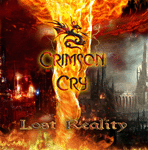 Debut album
"Waiting for tomorrow"
is out now